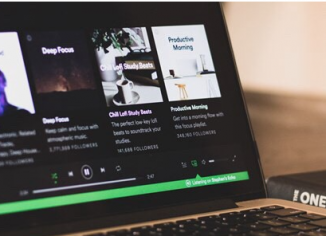 Back in the day, you'd wait with great expectation for the next big album of your favorite band or singer to drop, then you'd head off to the record store and wait in line to get it.
What had the artist created this time? Ballads, hard rock, reggae, R &B, or some combination of all the genres? It was exciting when the album had a single concept like Green Day's "American Idiot," or The Who's classic "Tommy."
Today, the record store of the 21st century is streaming.
According to a report by The Verge, streaming includes paid subscriptions to services such as Spotify and Tidal, but also digital radio broadcasts and video streaming services like VEVO. This broad category made over $3.4 billion dollars in 2018, a total that amounts to 75 percent of overall revenue for the record industry.
Wikipedia cites that record sales reached their peak in 1999 when 600 million people spent an average of $64 buying records that year, bringing a total of $40 billion in sales of recorded music.
Build better voice apps. Get more articles & interviews from voice technology experts at voicetechpodcast.com
Over the last five years, this figure has fallen dramatically. According to Statista, in 2013, sales amounted to 289.4 million units, a number which had already noticeably decreased from the 331 million units sold in 2011. And in 2018, 141 million CDs, CSs, LPs, and digital albums were sold in the United States. That number doesn't seem to be going up anytime soon.
But enough about statistics. Today the idea of a traditional album so often disappoints — you end up with a hit or two surrounded by what seems like "B-side" material. Streaming has changed all that.
Now, the playlist is the new album, and your voice is the DJ. Why?
You can easily program your favorite singles into a themed playlist and access it anytime you want it, wherever you are…and all you need is a smartphone. Connect it wirelessly to a Sonos system or a great Bluetooth speaker, and you've got yourself a party.
The only drawback with streaming now is the variety of choice — how do you discover music you love with so much content at your fingertips? You just don't have time to sort through it all.
Enter Voice/AI technology.
Now you can simply ask your Alexa to play "Chill Out" music, "Heavy Metal," "R&B of the '70s," and anything else you can imagine. Or create your own playlists that perfectly attuned to your mood on your favorite service, name them, ask your smart home device for them, and play them. More often than not, the kind of list you'd make has already been done and is just waiting for you to access — then you can copy and edit it any way you want. Manipulate the order, the volume, the tones, tell it when to start and stop, replay a section, get a bio of the artist — all with a spoken command.
Simply put, the music buying experience is just different these days, as is the music listening experience. Luckily, the best part stays the same…old or new, when it comes to music, there is always something delightful to discover, and now there is an easier way to get it.
The story of how sales affect the industry, the artists and the labels, will have to wait for another day.
Ironically, the best-selling music album in the United States in 2018 was the themed soundtrack to 'The Greatest Showman', which sold approximately 1.3 million units.
May the Voice be with you!The Playlist Is The New Album, And Your Voice Is The DJ
The Playlist Is The New Album, And Your Voice Is The DJ