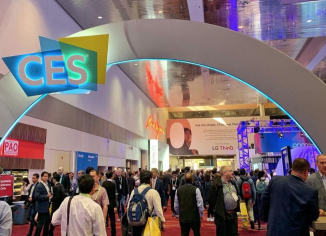 As soon as I heard CES would be all virtual this year, I began to think about what was and what could be.
Each year in January, Las Vegas becomes Nerdstock.
It's a gathering for 170,000 or more people in and around tech.
The best way for me to explain the CES experience, is to tell you how I navigate the biggest electronics show on the planet.
It begins with a visit to the CES website to register as a member of the media.
The next thing to hit my inbox is an email which includes my Press credential barcode. Save this for later.
Once registered as media, I immediately start getting invitations to visit booths for demos, invites to interview execs, passes to private events and parties.
But to me, and most important, is find out who's going, and who I need to see there for work and for fun. Then start reaching out and setting up some meetings.
Another trip to the internet to book my flights to and from Las Vegas, and a suite are the MGM Signature, my favorite hotel in Sin City. And to book reservations in the best restaurants for dinners even if it's months away, and even if I didn't use them. Also more on that later.
But the experience truly begins at the airport.
Every year, without fail, you can tell who's going to the show. Luggage tags that say Facebook or Microsoft, backpacks with the Samsung logo,Sharp,or SONY. Embroidered patches from Amazon and Apple, all the tech giants and news media in New York City one way or another fly out of JFK, LaGuardia or Newark. And that's where the networking begins. And that's one of the main reasons to go.
Landing in Las Vegas you're immediately hit with the sights and sounds of slot machines and the low rumble of crowds of people grabbing their luggage and heading (if they're smart) directly to the CES McCarran Airport check in desk to get printed and collect your all important credential. Here is where that saved barcode comes In to play.
I go to the press desk (usually a short line) everyone else goes to the general admission desk (a much longer line). Special guests, VIP's and exhibitors get special treatment and fly right through.
Press card in hand, I head to the MGM office inside the airport to check in to my hotel, then its a bee line to the taxi line. Every year I promise myself to either take a shuttle bus or hire a black car to avoid the horrendously long lines outside in the Nevada heat. I never do.
Next stop, the Signature.
Upon arrival I'm dropped off at a quiet entrance to an elegant apartment building behind the MGM Grand. The apartments are rented out so it doesn't feel like the typical casino hotel. And because I used the airport check in, I went right to my suite and didn't have to wade through the gamblers.
I choose the MGM property because it's on the Tram line that goes up and down the strip every few minutes, and ends at the convention center where the majority of CES takes place. (There are, of course, plenty of other great hotel choices).
One thing to do immediately is to buy a week long pass to the tram. This will keep you from getting stuck in the horrible traffic all day and all night in Las Vegas during this event.
On my first day I also head down to the LVCC to the media center to get the schedule, and pick up my all important gift bag or backpack to lug around my gear, and whatever freebie premiums and logo'd items I may acquire along the way.
For me, my favorite thing to do is to wander the thousands of square feet of floor space, and stare in awe at the gigantic displays of new consumer technology from all the familiar names in the business. The hall of cars and auto accessories, The displays from the little know start ups, to the the media giants (they didn't start coming to the floor until 2001 when I worked with the great team at NBC Universal to make our mark at the beginning of the new year in tech).
A typical day begins with coffee and a meet up with friends and contacts in a casino, then a keynote address from a supernumerary, and a walk about on the floor, followed by a few panels, meetings with brands, interviews with execs, and lunch (usually provided by one of the exhibitors).
Then a trip to some of the other hotel venues where special displays and vip suites are set up for the buyers to get up close and personal with the new gadgets,media to chat with brand ambassadors, and sellers to hawk their wares.
Then It's back to the floor, again. There is so much to see that it simply can't be done in one day, let alone 3.
At the end of the day, it's a tram ride back up the strip to get ready for the evening. The tram always stops at the Casino entrance, so I was compelled to play a bit before going back to my room for a clean up and a rest. And unless I was winning, it was usually a short stay at a crap table.
But before reaching the room, I would stop at one of the many casino bars and would invariable run into a contingent of colleagues or contacts who were having a laugh and a drink, and a chat about what they saw or did.
This is where you'd a learn about what was important and what was a must see.
After a rest and a change of clothes it was off to one of the restaurants I'd booked months earlier, with a group of work mates and clients. It is critically important to pre book these dinners since every good restaurant in the city is impossible to get in to during CES. And even a palm grease won't help. (But your always expected to do it anyway, it gets you better service.It is LasVegas after all).
After dinner, if you're one of the chosen (or a buyer) you may get invited to a party or two.
My favorite is the one thrown by the gang at Monster. It's always a huge event in a giant ballroom, with a very big musical act. One year I saw Stevie Wonder. And we partied all night long. Only to start all over again the next morning.
And so it goes for three full days.
Now I don't expect to convey the totality of the CES experience. The sights and sounds, smells and. feels of this huge happening are hard to capture in words, but let me recap.
Months before:
Register
Book flights
Book hotel
Make restaurant reservations
Set up meetings
On the day before day 1:
Fly to Vegas
Pick up credentials
Check in to the hotel at the airport
Cab the the hotel
Buy a tram pass
Head to the media center
Dinner
Day 2 and every day thereafter:
Walk the floor
Get some demonstrations of new products
Interview some people
Have some meetings
Attend some panels
Lunch meetings
Cocktail meetings
Dinner meetings
After dinner party's and concerts
But that was then…this is now…
So how could all these things be done digitally?
The whole registration process is basically already digital, but that could be so much cooler. For example, not just one app to do everything, but a video/voice/AI experience with a CG concierge. Make it feel special and digitally personal.
The floor walk could be a VR experience.
Demonstrations could be done with AR and video presentations.
Meetings, interactive panels and interviews would be done with Zoom or some other group meeting applications.
After party's would be done with motion capture, VR, or holographic projection.
And all of it will live in a single IP location, branded and accessible with a mobile phone, laptop, or VR gear.
Personalisation could be done with some form of programmatic applications.
Even the gambling could be sponsored by a hotel/casino, but that and the food and the booze will probably never become part of the all in one CES digital experience, but I'm sure someone will figure out how to make it tangential.
These are just a few top of mind ideas. There are so many more virtual opportunities to explore that would be CES appropriate.
Enjoy Virtual CES 2021.
I bet from now on it will be some combination of live and digital.