SAM KATZ ON THE LOOSE BOOKS AND PUZZLES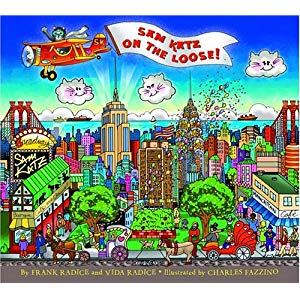 Now, more than ever, the world needs a furry hero and his name is Sam Katz. Sam Katz is on the loose in this wildly original, glitter-sparkling book of 3-D scenes guaranteed to amaze and amuse children of all ages. Who is Sam Katz? Lets put it this way: He is not your average humdrum Purina Cat Chow-munching, hairball-gacking pussycat. Everyday, Sam Katz's owners leave him all alone in an apartment whose walls are hung with paintings of exotic scenes. Where does Sam go when his owners are away? Why, he dives smack-dab into the action of the paintings, of course! From the steamy rain forest to the far-frozen north, from the hurly-burly of a boardwalk carnival to the peace and serenity of the mountain majesties, Sam Katz is one cat who doesn't miss a scene. Children won't want to miss out, either, as the text challenges them to explore each and every scene in full, and often hilarious, detail.
Sam Katz is a New York Cat On The Loose!
Sam Katz On the Loose is one-of-a-kind picture book.
Who is "Sam Katz On The Loose"? Ask one of NBC's Top Cats, Frank Radice, his wife, Vida, and the world-renowned 3-D pop illustrator, Charles Fazzino. Their book is a one-of-a-kind picture book filled with playful rhymes and gorgeous illustrations. Sam Katz On The Loose is sure to please art lovers and children alike!
The book is based on the real-life mischievous cat of the Radice family, and chronicles the secret life of one imaginative feline who finds endless amusement and high adventure within the walls of his masters' New York City apartment. The Radices are great animal lovers. "The innocence they bring to us is unconditional love which means every thing to us," explains Frank Radice. It was their desire to capture their personalities in a fanciful way, and to inform and educate children everywhere. Of course they wanted a lasting memory of their Sam Katz, number one, which changed Vida's opinion of felines forever. When they adopted Sam Katz, number two, they purposely went for a little guy that looked like his predecessor (although he has a decidedly different personality). Sam Katz II, being curious as cats can be, fell from their 5th floor balcony in Nice, France and survived. The vets there called him "Flying Cat". It was that incident that made Sam II a boldface feline name on the NY Post's Page Six. So now, Sam Katz is famous and this book will forever immortalize Sam I. While Sam II gets whatever he wants, whenever he wants, from his favorite admirers.
In Sam Katz On The Loose, every day Sam Katz's owners leave him all alone in an apartment whose walls are covered with Charles Fazzino's imaginary and colorful paintings. There, Sam Katz merges with the paintings and takes us on a breathtaking journey through the universe.
It is the first time that Fazzino's astonishing three-dimensional art is available in a picture book format for children, but not the first time he lends his art to the service of humanitarian and animal causes. Fazzino has been involved with charity works such as Rosie O'Donnell's For All Kids Foundation, and the Make-A-Wish Foundation. Together with Frank and Vida Radice, they are planning to use the books to help benefit pets. "Sam Katz was actually adopted from an animal shelter and we are donating a portion of the proceeds from the sale of the artwork to various shelters," Fazzino comments.
– Iman Bounhar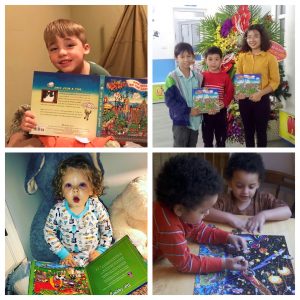 Sam Katz is now on the Loose on Twitter
NY Post Page Six
New York Post
August 20, 2004
We hear…
THAT NBC exec Frank Radice, his beautiful Persian wife, Vida, and renowned artist Charles Fazzino, have inked a deal with Random House to pen children's tomes about the Radices' "International Cat of Mystery," Sam. (The feline has been staying at the Radices' home in Nice staring at the Mediterranean for three months, getting ready for his big launch next fall).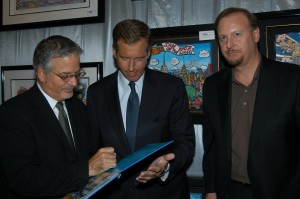 Wellness Magazine
The Story of the Flying Cat
By Frank Radice | May 13, 2009 1:06 PM
My wife, Vida, and I own an apartment in the French Riviera on the 5th floor of a building facing the Mediterranean Sea in Nice. It has a large balcony with the most spectacular view you could ever imagine. Vida loves it so much she stays for a month at a time. Only one problem, what to do about our pet cat, Sam. A month is too much time to be away from our little guy, so Vida decided Sam would become a world traveler. We went through the required steps, getting the vaccinations, contacting the French Embassy, getting the forms filled out by the vet, and buying the appropriate cat carrier. Vida booked a flight on Delta. It's the only airline to fly directly to Nice, and allows you to bring your pet right in the cabin with you. Sam was a great traveler, slept almost the entire time with out any artificial help, and didn't make a peep at all. But that's not why he's called a flying cat! When I met up with them at the apartment a week later, everyone was settled in. Sam was doing what he does best, sleeping and eating. And Vida was busy working on the flat, getting it ready for a great summer in the Riviera sun. Sam, being curious as all cats are, loved to look out the sliding doors to the balcony. From his perch on the scratching post, he could see the Sea, look at the birds, watch the boats and the swimmers; it was a wonderful view that kept him entertained for hours. And we were always careful to keep the doors closed, or at least screened in so he couldn't get out. But one night Vida and I had guests until very late. When our friends left at 2 in the morning, we cleaned up the flat, said goodnight to Sam, and went to the bedroom. I don't know exactly why I decided to go look for Sam before retiring, but when I did, he was nowhere to be found. Now everyone knows that mousers have a way of hiding in plain sight. We are always asking, "Where does Sam go when Sam goes away?" But this time was different. He was nowhere to be found. My heart sank as I ran down the stairs, hoping against hope that he hadn't fallen off the balcony into the sidewalk below. Sure enough, I found him cowering in a pool of blood, on the cold pavement, five stories below. He was breathing hard, and I was very afraid he wouldn't make it. I picked him up as carefully as I could and took him upstairs and handed him to my wife. I scrambled for the phone book and searched frantically for a vet in the area. Luck was on our side…there was an emergency clinique veterinaire just 5 minutes from our flat. We bundled Sam up in a towel and rushed him to the animal hospital where the nicest woman vet, who spoke enough English to understand us, gently took our little guy and disappeared into the examination room. Before taking him away, she said that kitties are constantly jumping from Riviera balconies (apparently trying to catch a bird passing by) and that's why they are called "flying cats." Two hours later she came out and told us to go home and wait…she said she had done all she could do for now, and we needed to wait until the morning when the rest of the staff came in, to get a better idea of just how badly he was hurt. She couldn't assure us that he would even make through the night. We didn't sleep at all, and at first light, we went back to the clinic praying that Sam was ok. The vet came in and told us he had a hard night…he had broken his leg, had internal injuries, and his face was all cut up. We could see him for a few minutes, but he needed an operation soon. When we walked in he was lying on a cold steel table shivering hard and looking all beat up, but at least he was alive. Vida and I pet him and talked to him for a few minutes before we were ushered out by the doctor. 3 hours later, they came out of the surgery and told us Sam would be ok…his internal injuries were fixed, but his broken leg couldn't be set…he would forever have a slight limp. We could take him home in a day or 2. Sam had just lost about 6 of his 9 lives. We took him home, cone on his head and all, and took turns staying with him day and night for 2 weeks. We watched every single episode of Law and Order on DVD until he was well enough to be left alone. Sam stayed close to us day and night until he was all better…then he resumed his cat like duties… Eating, sleeping and generally getting in trouble. Suffice it to say, he will never go on vacation with us again. And that's the story of "The Flying Cat"!
SPACE KATZ 100 Piece puuzzle available only at at http://Barnesandnoble.com
In Depth
A CAT TALE, A WILD LIFE
Life is never boring for Frank Radice, senior VP at The NBC Agency, and his wife Vida. Most recent case in point: What was meant to be an idyllic stay in their nice Nice pied-a-leisure turned into a medical drama starring Sam, the couple's beloved 3-year-old tuxedo-marked cat, who decided to step off the Radices' fifth-floor balcony shortly after the trio arrived, breaking his rear left leg. The couple rushed Sam to an English-speaking vet, who affectionately dubbed Sam "the flying cat."
Yes, Sam survived. Indeed, after a nerve-wracking few days, "It's as if nothing happened," said Mr. Radice. Except for a permanent limp that reminds Mr. Radice of "Gunsmoke's" Deputy Chester Goode.
Sam's next adventure will be less stressful. He will jump in and out of some paintings in a pop-up book being authored by Mr. Radice and illustrated by 3-D artist Charles Fazzino. It's scheduled to be published by Random House next year. It will be followed by another book in which Sam hops into postcards from around the world. And at least one book for every life Sam has left to live?
Spend $25, Get FREE Shipping

Usually ships within 24 hours

Note: Safety Warning

Spend $25, Get FREE Shipping

Usually ships within 24 hours
---
Related articles