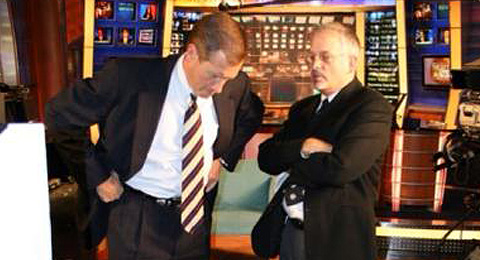 By Frank Radice
I worked side by side with Brian Williams as his promotion executive for many years.
It began with his anchor job at WCBS-TV in NYC in the 90's, through to his time at NBC News and the transition with Tom Brokaw in the early 2000's. I've been on a few of his assignment in the field, from the aftermath of Katrina, to the presidential debates and conventions.
Throughout that time I grew to know and respect Brian as a professional and as a person.
That hasn't changed.
What has changed is the seriousness of Brian's current predicament.
If Brian were to leave the anchor chair, NBC News will likely just replace him, maybe with someone younger…maybe not.
But there is a perfect storm that has been brewing for a long time now, and NBC News can take advantage of it and change their newscast entirely.
I believe NBC News has the opportunity to do something great…a real chance to remake television news for the 21st century. One without a single anchor, and a younger, more engaged audience.
I know it will be tough to lose all the pharma, but CBS can find a use for it! And if NBC gets it right, new advertisers will appear.
NBC has a chance to plant a stake in the ground.
How would it work?
Its Real-time, interactive, and social.
It's YouTube, and streaming, and cool.
It uses different distribution platforms both in and out, it embeds social commentary, and more.
How would it look?
It's about moving the program forward using the best of today's technology, while still adhering to the standards of journalism.
I think there are models out there trying to do that.
From "Fusion," to "TMZ," and Local shows like, "Chasing," and, on-line like "Vice," or "Watchup."
Possibly using Snapchat, or Instagram.
And yes….they could blow up the time period simply by hiring John Stewart!
The critical layer of oversight and vetting regardless of distribution platform will still need to be in place. Good vetting is essential. But the distribution model has changed, the consumption model has changed,
but the 6:30 network news has not.
Frank Radice is the Expert in Residence at the marketing firm, Definition6.
He has 15 plus years in journalism which including producing at ABC News, "Nightline," where
He was assigned at times to conflicts in Central America and the Middle East.
He went on to produce programs for ABC News until 1991.