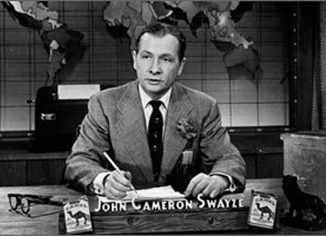 React like the news division, execute like the promotion team, market like the sales group.
In the beginning, network TV news was blatantly sponsored. Just check out John Cameron Swayze and the Camel Cigarette logos on his anchor desk.
Back then, there was hardly any on-air promotion for the news. News was seen as a public service that helped keep the networks and channels licenses afloat.
But soon the news executives realized if you told people where to look, they'd go there. The audience would discover it. The total audience would increase.This begat the first news promos (to be accurate, it wasn't until Roone Arledge, the late ABC Sports guru, took over ABC News, that really effective news promos came into being. His idea was to do for news what he did for sports on-air promotion.
In the earliest days of news promos, spots were often 60 seconds or 30 seconds long. There weren't a lot of programs to promote either. A morning show (that waffled between being entertainment-controlled or news-controlled), an evening news, and later on, a newsmagazine. Twenty-four hour news was still just a dream — in fact, the evening news began as a 15-minute program, later to be lengthened to 30 minutes.
Promos for news shows dropped in length to 30's and 20's, and 10's. You can't tell much of a story in a 10. As the number of channels grew, and the playing field became more crowded, inventory became more valuable.
When 60 Minutes premiered, it was a huge departure for news. Owning that much prime-time real estate on the schedule meant it had to earn its place. In the case of that venerable CBS program, it was not only great storytelling, but it made money, which was something the evening news and the morning shows had not yet done (back in the early days they were loss leaders, and helped define the network image).
Promo time for news programs in prime time got the most attention, and a 60 Minutes spot helped tell a story and extend the brand. 60 Minutes was so successful that the other nets followed suit. ABC with 20/20, and NBC with Dateline. These programs got the lion's share of good promo time and the news magazines became the best place for the rest of the networks' news schedules to get inventory in a position where it might actually get some eyeballs, in prime time.
But as the promos went from 30's to 20's to 15' to 10' and even 04's, the less they said. At worst, you got a show name and a time to watch it…at best, you got a taste of a single story.
By then, the promotion philosophy had flip-flopped between topical and branding. Either you got to direct the audience to one specific story on a show, or you did generic brand spots. Marketing the news division was done with quotes, stats, and beauty shots of the anchors.
But if you didn't air them a lot, and you didn't put them all over the schedule, you could never get enough gross ratings points to change viewer behavior. Reach and frequency is still the Holy Grail.
A long time ago, the news divisions even tried doing a daily, sponsored "NewsBrief" in the afternoon. It was a regularly scheduled headline menu service that featured the network talent and promoted the evening news. But that eventually went the way of the dodo because that time was more valuable for sales than It was for content. In other words, sell the whole minute instead of a short commercial in the middle of the brief.
That made me think, why not use news promo time to actually report the news, like a headline menu service, and direct viewer attention to the next show coming up? Instead of one story or one image, it becomes something more useful.
Most marketing groups are already set up to make daily spots, but to make this work, they would need an editorial director on the team. Someone with the journalistic chops to make sure the content was right. The promo team would build it like a high- end spot. Then the way to get the network to run it more often would be to sell it to a sponsor.
Everybody wins. The news division gets more reach, the sales department gets the frequency, and the shows get the marketing.
I know there might be some issues with skittish advertisers not wanting to to be too close to a story that puts them in a bad light, but that's what standards and practices, and legal departments are for.
Maybe it's time to rethink the network news promo for the 21st century. There certainly is enough news to promote these days.
WRITTEN BY
Frank Radice
Emmy winning journalist, producer, director, composer,and author. Sharing content about tech, politics and media, and writing about the New Normal.