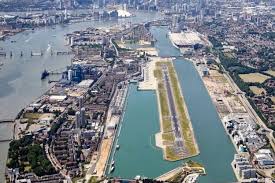 Television and marketing executive Frank Radice recently flew to London from New York on British Airways.
On this flight, however, he didn't take a 747, but rather flew a much smaller Airbus.
Rather than flying into congested Heathrow or Gatwick, he flew into BA's best-kept secret. Keep reading for his report:
My wife, Vida, and I are frequent British Airways International fliers. In fact, I'm BA Executive Club Gold and she's Silver.
We fly to London for business and pleasure seven or eight times a year, always from JFK to Heathrow. We usually fly Club but sometimes First and sometimes World Traveler Plus. This time we thought we'd change it up a bit and decided to try the new flight from JFK to London City Airport (LCY) in the heart of the UK's financial district.
The flight is BA Flight 002, the number of the original Concorde flight from New York to London. And as soon as we entered the cabin we were greatly impressed.
Our Airbus 318 was just six months old and the cabin configuration is what impressed us first. There are only 32 Club Class seats and a flight crew of five (three flight attendants, or one per every 10 passengers).
The legroom in the lay-flat seat was more than adequate. I would have preferred a larger video screen, as the ones on the plane are 7-inch personal digital players on swinging arms, and I did miss the GPS map, but I guess you can't have everything.
Learn about other services aimed at business travelers here.
But wait, there's more. There is a mobile phone system on board that allows you to send and receive SMS and MMS (text messages). You can also send and receive email if you have a smartphone or a laptop with a GPRS or data card. Now that's civilized!
But one of the best parts of this flight takes place on the ground.
When it came time for customs at LCY, there was no problem at all and it was very fast (after all, there were only 32 people to check through.) By the time we got to the baggage carousel our luggage was already out. That certainly doesn't happen at Heathrow or Gatwick.
For more about traveling to England, visit our British Isles travel section.
If you've got a car, you're good to go. From the airport to the business district or central London, it's a piece of cake. If you want to take public transportation, again, no problem.
Passengers are given Oyster Cards and instructions how to get into central London using the Docklands Light Railway (DLR) and the Underground. Twenty-five minutes later, and with hardly any wait at all, we were at our stop in Earls Court.
The return trip was a bit different, but just as good of an experience. Nonstop to New York? Not quite. We went wheels-up on BA Flight 001 on time, but landed shortly in Shannon, Ireland to refuel. Why? The runway at LCY is too short for a full load.
But the good news is that you go through U.S. customs during the stop in Ireland. It was very fast, less than one hour. This pre-clearance procedure is terrific because when you land in the States a few hours later, you're treated like a domestic passenger. Just get off the plane and go.
Get more tips in our Passports & Customs travel section.

If you have business in London's financial district, with daily flights, this is the way to go. The arrival lounge in London City is available at a nearby hotel where you can freshen up and have breakfast before going to your meeting. There is also a small but convenient departure lounge at LCY. Because of the quick in-and-out you don't need to be at the airport the usual three hours before the flight (but I'd still get there at least an hour and a half early even though BA claims you can do it in far less time).
If you simply want a very comfortable high-end way to get to London from New York, this is a great way to go. It's similar to flying a private plane but far less expensive, from about $5,459 round-trip, which falls at the low end of the scale on comparable business class flights across the Atlantic.
For more information, visit BritishAirways.com.
By Frank Radice for PeterGreenberg.com.
Incoming search terms: