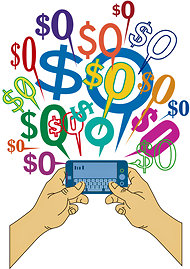 By KATE MURPHY
New York Times
Published: November 2, 2011
Frank Radice, the former president of the National Academy of Television Arts and Sciences and now a media consultant, is a compulsive texter. But after racking up more than $1,000 in texting charges on a monthly mobile phone bill two years ago, he began searching for a less expensive way to communicate.
Minh Uong/The New York Times
Browse all the mobile app coverage that has appeared in The New York Times by category, and see what Times writers have on their phones and tablets.
All Apps
News and Amusements
Social and Communication
Money
Travel and Food
Tools and Resources
He found apps that allowed him to text free. "Once you try them, you'll never go back to regular texting," said Mr. Radice, 62, who texts on aniPhone and iPad using either TextNow or Skype IM.
Even though a text message usually costs the carriers less than a penny to route between mobile phones, they charge customers as much as 20 cents to send a text and another 20 cents to receive one. This adds up to an estimated $20 billion a year in revenue for the wireless industry and a lot of grumbling from consumers who feel abused.
But in the last two years there has been a proliferation of mobile apps, the latest being Apple's iMessage, that allow users to text free. While they differ in format and ease of use, they all work on the principle of sending and receiving texts via cellphones' data streams.
"Traditional texts are sent over a defined protocol, like their own channel, that is different from the voice and data channels," said Michael O'Brien, senior vice president for marketing solutions at Syniverse Technologies, a company in Tampa, Fla., that develops products and services for the wireless industry.
A single text message sent via a texting app uses no more than 160 bytes of data. Most cellphone data plans are 2 to 10 gigabytes (one gigabyte is about a billion bytes). So even if you texted someone all of "War and Peace," 160 characters at a time, you would still have ample data left on your plan — although you might lose a friend.
TextFree is one of the oldest (circa 2009) and most popular texting apps, particularly among teenagers and preteenagers, who use it to text beyond the limits of their parents' payment plans. They can also use it to text from their laptop computers, iPod Touches and iPads (bad news for parents who thought they could keep their children from texting by taking away their cellphones). Pinger, the company that offers TextFree, says the median age of its 15 million subscribers is 14.
Advertising supports TextFree and its chief competitors, TextNow and textPlus. Ads flash and bob on the bottom of the screen as you type messages, although your recipients see nothing but your text.
Or you can pay to remove the ads. On TextFree and TextNow, it costs $5.99 a year to avoid ads imploring you to buy, say, Energizer batteries. To use textPlus ad-free costs $4.99 a year, but the company is now offering it for $1.99 per year as part of a promotion.
Registered users of these apps get a new phone number for texting. Texts sent to this new number are automatically forwarded to your cellphone or other wireless device. It also appears as the originating number when texts are sent using the app. TextFree and textPlus work on iOS (i.e. iPhone, iPad and iPod Touch) and Android devices, while TextNow is only iOS compatible. But the apps are agnostic about recipients' devices. You can send texts free to just about anyone, including the more than 60 percent of Americans who don't have smartphones.
"Some of my friends complain about having to text to a different number," said Barry Asch, 40, a middle-school teacher in Wellington, Fla., who uses TextFree on his iPhone. "But in this economy, if I can save $20 a month on texting fees, they can get over it."
TextFree, TextNow and textPlus allow transmission of picture files within texts and have customizable options like special ring tones (sounds like tropical birds, marimba and even flatulence) to announce texts from particular people in your address book. And of course, they have a full range of cartoony emoticons, called emoji, if you're into that.
On a recent test run of all three services, TextFree was the fastest, most reliable and easiest to use. It also allows you to send texts free to 25 foreign countries while its rivals do not support international service beyond Canada. Moreover, TextFree allows you to text from your computer — a boon to all who prefer a full-size keyboard over a tiny touch screen when they have the choice.
Another option for free texting are instant messaging apps like iMessage, Skype IM, Kik,Google Talk, Facebook Messenger and GroupMe. These might be thought of as digital cliques that offer free texting as long as the people on the other end, even if they are in different countries, have the same app. Regular texting charges apply if users send a text via Facebook Messenger, GroupMe or iMessage to nonusers. Kik, Google Talk and Skype Chat allow correspondence only between users.
You don't get a new phone number when using instant messaging apps but rather a user name. These services tend to sling messages back and forth with lightning speed and allow texting to groups as large as 100 people, which is good for organizing gatherings. Picture files are also accommodated.
With the exception of iMessage, which is available only on iOS devices, instant messaging apps tend to work well on all types of smartphones — iOS, Android and BlackBerry. Those with a Windows Phone, however, are limited to Kik and GroupMe. Skype IM and Facebook Messenger have the bonus of allowing you to send text messages from your computer when you log onto the Skype and Facebook Web sites.
And then there is Google Voice (not to be confused with Google Talk), which is a no-cost comprehensive communication app that is in a class by itself. While it has a range of useful services — like voice mail, call recording, call forwarding, telephone number porting and voice mail transcription — it also offers unlimited texting to anyone in the United States. Users can elect to have texts sent to their mobile phones as well as have them delivered to their e-mail inboxes.
Texts can also be viewed from the Google Voice Web site, which allows texting from a computer. And since this is a service offered by Google, the texts saved online can be searched using keywords. But, unlike other texting and instant messaging apps, you cannot attach pictures to Google Voice texts.
Deryck Wong, 21, a senior at the University of California, Berkeley, who is majoring in business and economics, uses Google Voice to do all his texting. "I got tired of all the fees from my carrier," he said. "I've gone over my limit before and it was ridiculous how much they charged me per text." Now he has a cellphone plan that includes just voice and data. He has no texting charges at all, saving him at least $15 a month.
"I spend the extra money on sandwiches at the school's cafe," said Mr. Wong, which spares him the frozen food or ramen he would otherwise make for himself at home. "It's more convenient and tastes a lot better."
Incoming search terms: