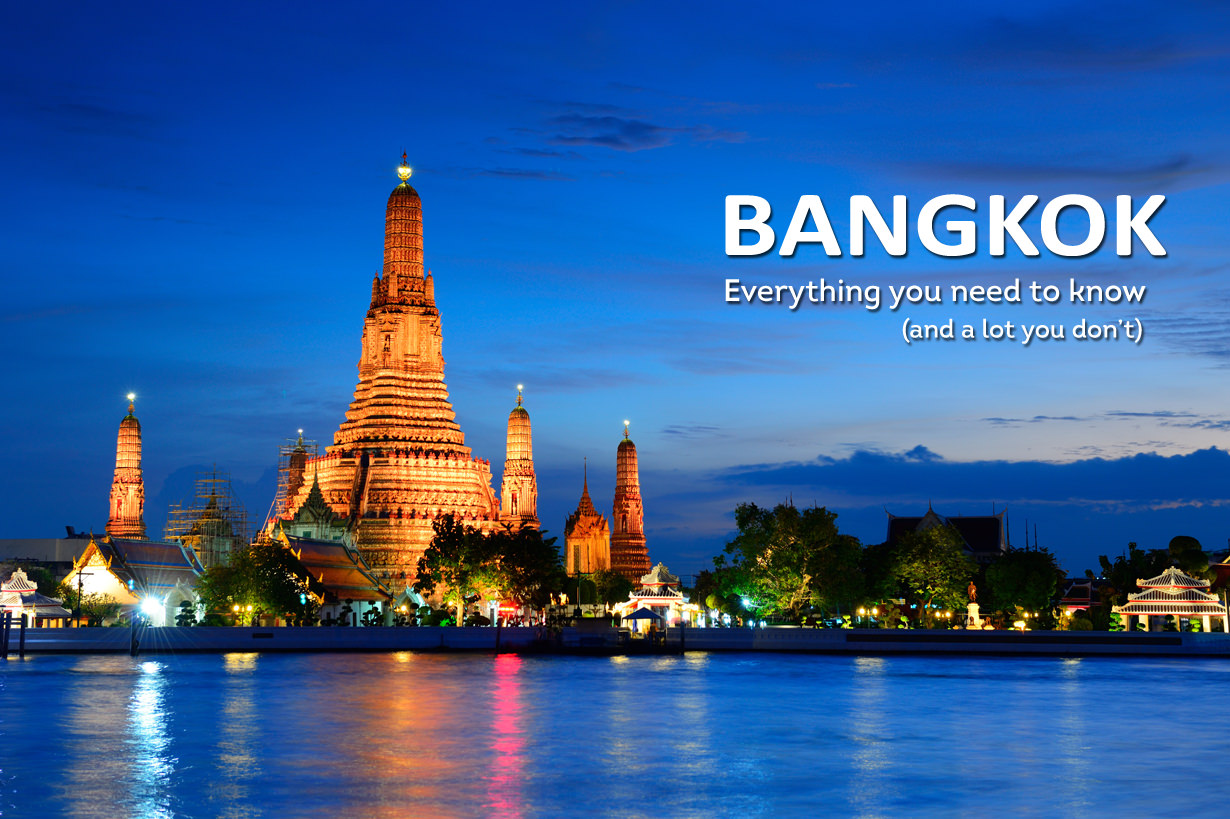 American travelers have long flocked to Thailand for its exceptional value and unique experiences.But this spring, the media was saturated with reports of civil unrest; in mid-May, the State Department put out an alert warning U.S. citizens to defer all travel to Bangkok and all non-essential travel to the rest of the country.
As a result, Thailand's tourism industry took a major hit. And that is when savvy travelers strike. Frank Radice reports on the benefits of off-season travel to a destination that was recently deemed "dangerous" for travelers.
We wanted to go somewhere neither of us had been before.
When the idea of a trip to Thailand came up the first thing out of my wife's mouth was, "It's not safe there!"
Everyone was talking about the violence. Bangkok was in the news almost every day back in May and when we mentioned it to our friends they unanimously said we shouldn't go.
After some conversation, we agreed Thailand was the right choice. Let's go where everyone says not to go, we thought.
Like any other trip you have to do your homework, and the Internet is a great place to start. Has there been a recent State Department travel alert related to your destination? (Yes.) Do you need a special visa or shots? (No). What's the weather like? (It's low season in July when we went).
We flew British Airways from JFK to LHR, spent some time in London , and then flew 10 hours to Bangkok. As soon as we deplaned at Suvarnabhumi Airport we went through customs without a hitch. Surprisingly, there were very few armed guards visible inside the airport, and none around the security gate.
To learn more about the history of the conflict, check out Thailand Tourism Collapsing Amid Bloody Protests and our follow-up news feature:Violence Worsens in Bangkok: Western Governments Issue New Travel Warnings.
I always start a trip by asking the drivers about the mood of the city. He said it was perfectly safe, and was the first of many to say that the media made the situation out to be worse than it really was. To be perfectly clear, there is continuing tension between opposition factions here, and that had manifested itself in occasional violence after the well publicized incidents, but in the big picture scheme of things it's no worse than any large American city, and when we were there, a whole lot better in fact.
At our hotel, the COMO, Metropolitan Hotel in the business center of the Bangkok, I posed a similar question to a staff member.
"Definitely," she said. April and May were tense but "everything is over and really back to normal."
To help spread that word, the Metropolitan is offering some steep discounts, as much as 50 percent, to get people to come to Bangkok and rebuild the tourism industry. This particular property is is a high-end destination hotel with every amenity (and it's are in the process of opening a new eatery with famed Michelin star chef, David Thompson), so a deal here has great value. Currently, rooms range from $260 to $2,000, but there are always packages, so don't be afraid to ask.
On our first night there we had a good friend, Charina Sirisinha (Kaew ZaZa),  international Thai pop star, actress and model, show us the sights.
Our own diva, Born to Shop's Suzy Gershman, offers her take on the city in this Bangkok postcard.
We visited the highly touristed Khao San Road, the Suan Lum Night Bazaar (which had the largest food court I have ever seen) and the Patpong Night Market, for some really great shopping experiences.
(Tip: Just go to the market, and ignore the people trying to lure you into the girlie Pat Pong bars. The key here is the shopping. Period.)
There are bargains to be had if you shop in the markets, and with currency hovering around 32 baht to one U.S. dollar, that offers real buying power. Everything is negotiable, from watches and handbags (of dubious origin) to Thai antiques (also not always real) to great Thai products like textiles, metal work and religious items. My philosophy is to buy one high-quality item in each country I visit, so we purchased a beautiful framed temple rubbing at a market stall. A bit of haggling reduced the price from 2,000 bhat to 1,000 bhat (about $32).
It's difficult to find a bad meal in Bangkok, and affordable food abounds. What's not cheap, however, are luxury items like liquor and cigars, that have an added tax. Skip these items if you can.
Taxis are another affordable luxury here (you can get anywhere in the city for a few hundred bhat), but try to agree to a price before you drive away or make sure the driver uses the meter. In fact, the meter on most of these taxis is purely ornamental.
For more on Thai commerce, check out this Shopping Guide: Bangkok's Floating Markets.
I tried to follow Peter Greenberg's advice: Negotiate before you get into a cab, even if it's metered; whatever the driver offers, come back with one quarter of the offer, and settle on a third; to be safe, have the concierge write the Thai name and address of the places on a hotel business card. That way nothing gets lost in translation.
Since this was our first trip to Bangkok, we had to continue with the "touristy" activities, including visiting the Grand Palace and the Golden Buddha. The main lesson learned throughout the course of the day: Make time to see what you want and factor in traffic congestion even if it's not rush hour. Traffic can be a nightmare in the central city, including hordes of motor scooters that never stop for pedestrians let alone oncoming cars.)
The bottom line from our experiences around the city?
Bangkok is still in an official state of emergency, but you couldn't tell by walking the streets, talking to the locals or the tourists you inevitably meet. In fact, there was a surprising lack of uniformed police presence everywhere we went. That was also the case when we flew an hour south to the island of Phuket on Bangkok Airways, aboard an Airbus A320, painted with a festive marine motif.
Some legacy carriers could learn a thing or two from this small airline: it has a lounge for economy fliers with comfortable seats, free Wi-Fi, coffee and snacks.
Rather than book a hotel on Phuket, we opted to rent a villa at Nai Harn, on the southern tip of the island.
At about $150 per day it was quite a deal, with two bedrooms, two bathrooms, a full kitchen, and a private pool.
We hired a driver since, on Phuket, four-wheel transportation is very helpful, but driving is once again the Asian version of NASCAR meets bumper cars.
Cars, motorbikes, and bicycles (which drive on the left side of the road) share space with street dogs that seem to own the roads; and elephants are as commonly spotted as Thai massage spas and open-air boxing gyms.
Once again, we were reminded that it's always smart to make friends with your driver, since they tend to be a fountain of local knowledge. Our driver regaled us with stories about the island's comeback since the devastating tsunami in 2004.
He also shared some important travel tips: use cash, but never let your credit card out of your sight; he also gave us phone numbers for local police and the nearest hospital.
As expected, the seafood in Phuket is fantastic. The best way to experience it is to visit any of a number of local places near the beaches …. they're only about 100 feet from the fishing boats and the catch couldn't be any fresher. For $20 you can have a feast for two.
Because Phuket is such a tourist destination, most menus are well-illustrated, and a lot of folks are multi-lingual, so there's little to worry about when placing your order.
A few tips:
Low season (generally May-October, but especially in July) in Bangkok and southern Thailand means monsoonal rains, so you can expect to encounter at least one storm with heavy winds.
Don't be surprised if the the occasional large bug, stray cat or dog finds its way into your place.
You may experience a power blackout or two, but that gets fixed pretty fast , especially in the more touristed sections.
As for those media reports and State Department alerts, there was no evidence on this trip that there is any reason for visitors to worry. And, in fact, with the double whammy of traveling in the off season, we reaped the benefits of great value, lighter crowds, and gracious locals who seemed genuinely happy to have us.
By Frank J. Radice for PeterGreenberg.com. Producer and consultant Frank Radice writes regularly from his travels overseas. He worked with Peter Greenberg for years at NBC, where he was executive vice president of advertising and promotion. Visit him on the Web at http://frankradice.com.