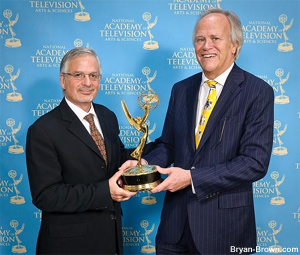 The Hollywood Reporter
Had been president of the organization since Jan. 1
By Randee Dawn
Sept 21, 2009, 04:38 PM ET
Updated: Sept 21, 2009, 08:39 PM ET
Frank Radice, president of the National Academy of Television Arts & Sciences, resigned Monday on the eve of the group's annual News & Documentary Emmys.
"It was due to significant differences between myself and management," he said. NATAS officials could not immediately be reached for comment.
Radice held the position for less than a year, having signed up Dec. 15 as chief marketing officer and ascending to president Jan. 1. He facilitated a warmup in the relationship between NATAS and Los Angeles-based branch ATAS following a bruising legal battle under NATAS' previous president Peter Price.
Radice also made a priority of the Daytime Emmys, ensuring that the show would find a home after CBS and ABC opted out of airing it this year.
Thanks to a revenue-sharing deal more common in syndication, the Daytime Emmys aired Aug. 30 on the CW. The show, produced by Associated Television International, drew 2.68 million viewers, the lowest-ever for the telecast but OK for by the CW's standards.
"I am proud of what we accomplished this past year," Radice said. "From the daytime show, the partnership with ATI, to the funding of the Jim McKay scholarship, to the video blogs. All in all, a great year."
Nellie Andreeva contributed to this report.