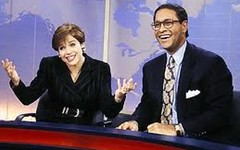 Remember the first time you learned about the Internet? Hopefully it didn't take place while you were on live TV..

This past weekend, a friend of mine sent me this 1994 clip of the then TODAY Show team of Katie Couric, Bryant Gumble and Elizabeth Vargas talking about this new "Internet" thing and a weird "@" symbol. It's incredible to watch. In the clip, Katie and Bryant debate weather or not the "@" stands for "about" or "at"? Hell, even the graphics department got it wrong. At around the 0:40 second mark in the video, a graphic showing an email address just has a circle with an (a) inside. Oops! I'm not sure if this clip was shown live on the air or during a brief show break known as a "co-op" that only a handful of satellite subscribers got to see.

Since this weekend, the clip has generated almost 1M views on YouTube and even made it on to the TODAY Show this morning.

What a fascinating look at the beginning of an upcoming revolution.
Former marketing executive for the TODAY Showhttps://youtu.be/UlJku_CSyNg