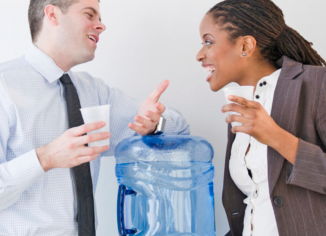 Social Media: The Water Cooler of the 21st Century – Frank Radice-Definition 6
By Frank Radice
I know I'm dating myself here, but one of my favorite TV shows as a child was The Adventures of Ozzie & Harriet. I loved the show for several reasons, the main one being music, but I also really enjoyed the family dynamics. It was a nuclear family with a music twist. They sat around and ate dinner together. They played music together. They had father-son talks. Mother-son talks. The neighborhood kids came over to hang out. Everyone was communicating face-to-face, all the time, and there was always a lesson to be learned on every show.
But when I think back to the days of Ozzie, Harriet and their kids, David and Ricky, and compare it to how we communicate today… we don't do any of that anymore.
Families don't eat at the family dinner table, or watch the evening news together anymore. At work, we don't get off our collective butts and walk down the hall to talk face-to-face anymore. Even a conversation with the person in the next cubicle has become an IM experience. Hell, I video Skype my colleague, Jon Accarrino (@accarrino), and he's only two offices away!
And we certainly don't hang around the water cooler at work and talk anymore. That's so 20th century! Content, context and conversation occur more and more digitally using tools like "social media." Let's use the Television example, shall we?
In my experience, beginning in the 50's, 60's and 70's, you'd watch a TV show like The Adventures of Ozzie & Harriet, often with the family, and when it was over, everyone went to bed. The next day at work, or at play, the conversation eventually got around to "that show" last night. Was it funny? Did you like the music? And by the way, did you see that commercial for the shaving cream where the pretty girl said, "Take it off… take it all off!" That was something. That was also pretty much it. The networks were happy if people watched the program, and the sponsors were happy if the product advertised was sold.
When e-mail started to become hot you might get up and go to your computer to "chat" about a TV show with a friend who was watching at the same time you were, or you had a laptop handy. But it wasn't instant. Maybe they would reply to your email the next day.
IM-ing made that process simpler and took it to real-time. It allowed you to have real-time conversations to anyone, anywhere in the world who was sitting at a computer. It was the new "Face to Face," but without an actual face.
Mobile, paired with social media networks like Twitter and Facebook, gave us real-time messaging without the burden of a big computer. Now you could have a real conversation about things like TV shows, with all your friends at the same time, and do it with a portable device small enough to fit in your pocket.
But what if your friends weren't watching the same show as you? Then new "Apps" that took advantage of mobile technology and social media, like Get Glue, Miso, and I.TV, let you have real-time conversations about TV shows. With "In to It," and the newest one I've seen, ConnectTV, you can chat, share files, comment, see extra video, interact, engage, and have what I call, "A social media water cooler experience." There is even one with a video chat component now.
With these tools you can create a conversation that can stimulate a multitude of reactions. Beyond generating interest, they let you create a platform where fans can interact. You can have transmedia applications that make the viewing experience more meaningful. And at the far end of the spectrum, you can use the tools as an agent of change. Apply the social media mantra to TV News, and many doors open up as evidenced by the huge following of people for the "Occupy Wall Street" movement who are nowhere near the gathered groups. See how social media made the plight of the Iranian public part of the fabric of our conversation. And, on the opposite end of the spectrum, consumers can now even engage directly with a show live (like voting on the X-Factor through social media.)
People see it on TV, they interact directly with the participants on the scene, they share their experiences, and in the end, reach a new audience with a given message.
Social media is now our most effective "word of mouth tool."
We can reach the most people, or target the right crowd with any conversation, and because it's social, we can get immediate response and ultimately affect a reaction (stir up a crowd, watch a show, rag on an actor, sell a product, and at the extreme, get someone elected or help get a policy changed.)
It's got greater reach than traditional media, and it affords the luxury of greater frequency through things like re-tweeting and sharing.
Add a layer of video, audio and still imagery to your conversation and you can bring them to life.
Social TV is the new "next big thing," and social media is the new water cooler.
The days of watching a TV show and talking about it around the water cooler the day after are gone.
Now you can do it in real-time. And that holds a wealth of possibilities for you, the viewer, your communities, the advertiser and who knows, the TV show itself.
Your social media network can have any number of personal "Stations." From Twitter and Facebook, to LinkedIn and Flickr. From YouTube to StumbleUpon, and to Instagram and FourSquare. Add them all up and you have more influence than you think. Link them together and you are a force to be reckoned with.
Now go to the water cooler and get a drink.
Frank Radice serves as Expert-In-Residence for Definition 6. As Expert-In-Residence, Frank advises Definition 6 leadership and clients on marketing strategy and issues pertinent to the evolution and transformation of the broadcasting & cable industry. He can be reached at Frank.Radice@definition6.com.
Read all Frank's MediaBizBloggers commentaries at Defining Insights.
Check us out on Facebook at MediaBizBloggers.com
Follow our Twitter updates @MediaBizBlogger
The opinions and points of view expressed in this commentary are exclusively the views of the author and do not necessarily represent the views of MediaBizBloggers.com management or associated bloggers. MediaBizBloggers is an open thought leadership platform and readers may share their comments and opinions in response to all commentaries.
To communicate with or to be contacted by the executives and/or companies mentioned in this column, link to JackMyers Connection Hotline.
Post a Comment
Name or Nickname:
Email:
Your Comment: Editorial Dept. Must Approve Prior to Comment Going Live.
Type the two words:
Reader Comments(0)