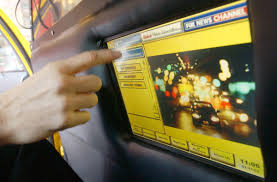 San Antonio Business Journal

Thursday, January 4, 2007
Through a content-sharing agreement between Clear Channel Taxi Media and NBC Universal, some 5,000 taxis will air NY10, New York's Taxi Entertainment Network. The channel will air exclusive content from WNBC, NBC News and NBC Entertainment.
It will roll out during the first half of 2007 as part of the New York City Taxi and Limousine Commission's recent announcement to install passenger information monitors in New York cabs.
Clear Channel Taxi Media, which is owned by Clear Channel Outdoor (NYSE: CCO), will sell advertisements on the network. NY10 should provide a new avenue to reach more than 14 million New York consumers each month, according to Charlie DiToro, chief operating officer for Clear Channel Taxi Media.
NY10 will air news, weather, sports and entertainment on LCD screens installed in the back seats of cabs. The screens also will give passengers the ability to track the route of their trip and pay their fare by credit or debit card.
"We are always looking for innovative ways to expose our brands to as many people as possible, not only to New Yorkers but also to the millions of people who visit New York each year," says Frank Radice, senior vice president of NBC Agency's East Coast operations. "This is the perfect vehicle — no pun intended — to make that happen."
Clear Channel Outdoor is the world's largest outdoor advertising company with more than 881,000 displays in more than 60 countries. It is majority owned by San Antonio-based Clear Channel Communications Inc. (NYSE: CCU).
NBC Universal is one of the world's leading media and entertainment companies. It was formed in May 2004 through the combination of NBC and Vivendi Universal Entertainment. Today, the company is 80 percent owned by Fairfield, Conn.-based General Electric (NYSE: GE) and Vivendi in Paris.