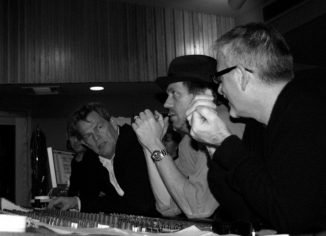 Posted: Friday, March 16, 2007 5:48 PM by Jaclyn Levin
(From Lester Holt, TODAY Anchor)
I never take for granted that I get paid to do something I am passionate about: Being a reporter. And so a rare offer to combine that with one of my other passions – music – was beyond my wildest dreams.
I'm just back from a weekend in Hollywood where I had the privilege of joining some other amateur musicians, who also make their livings on TV, to record at the historic Capitol Records studios.
I have played the electric and standup bass since Junior High School, and while I occasionally sit-in at New York City jazz clubs, have never played professionally. Hugh Laurie, star of FOX's "House," sings and is an accomplished pianist. Greg Grunberg, who plays the mind-reading cop on NBC's "Heroes," also plays a mean set of drums. Bob Guiney, of ABC's "The View," and "The Bachelor," also happens to be an experienced singer. Along with James Denton of "Desperate Housewives," Bonnie Somerville, formerly of "Kitchen Confidential," and several other talented musicians they form a group known as "Band from TV." Grunberg, who is as positive and enthusiastic a guy as you'll ever meet, formed the band for all the right reasons: To raise money for important causes like pediatric epilepsy research, and to have fun. Today they play various venues around Southern California with all the proceeds going to charity.
The group had never recorded together until they gathered at Capitol Records on a recent Saturday morning to do a couple of songs for the "House" soundtrack CD. Their regular bassist, former child actor Brad Savage was out of town, and the folks at Universal who produce "House," suggested me as a possible replacement. And so there I was in Capitol's historic Studio B about to record music with this multi-talented-roster of TV stars and musicians with whom I had never played a single note.
And as if that wasn't enough pressure, did I mention who was producing this recording session? None other than multi Grammy Award-winning producer David Foster. When he found out the proceeds were going to charity, David gladly cancelled his weekend plans and agreed to help turn us into recording artists.
Turns out in addition to being a terrific actor and musician, Hugh Laurie is also a heck of a musical arranger. We did his funk rendition of "Minnie the Moocher," along with a reggae-inspired version of "Can't Always Get what you Want." But it was David Foster who performed sheer magic on the tunes, working with us as a group, and then one on one to find just the right sound. I laid down bass part after bass part, incorporating Foster's various suggestions. Then, using an amazing piece of computer software, he combined my best notes and "licks" into a solid bass line. He did the same thing with every instrument and vocal part, and explained it was "no different than what has done for every other artists he has produced," from Celine Dion, to "Earth, Wind and Fire." We all ended the weekend agreeing his amazing ear made us all better musicians than we were when we walked in the door.
The "House" soundtrack will be released sometime this summer, and you can then judge for yourself whether we're better off keeping our "day jobs." WATCH THE VIDEO OF OUR SESSION. It was an experience I won't soon forget. I made some great new friends. Some you know from TV, some you don't. But all of them are blessed with big hearts and raw talent, whose music will always leave you on just the right note.
Incoming search terms: