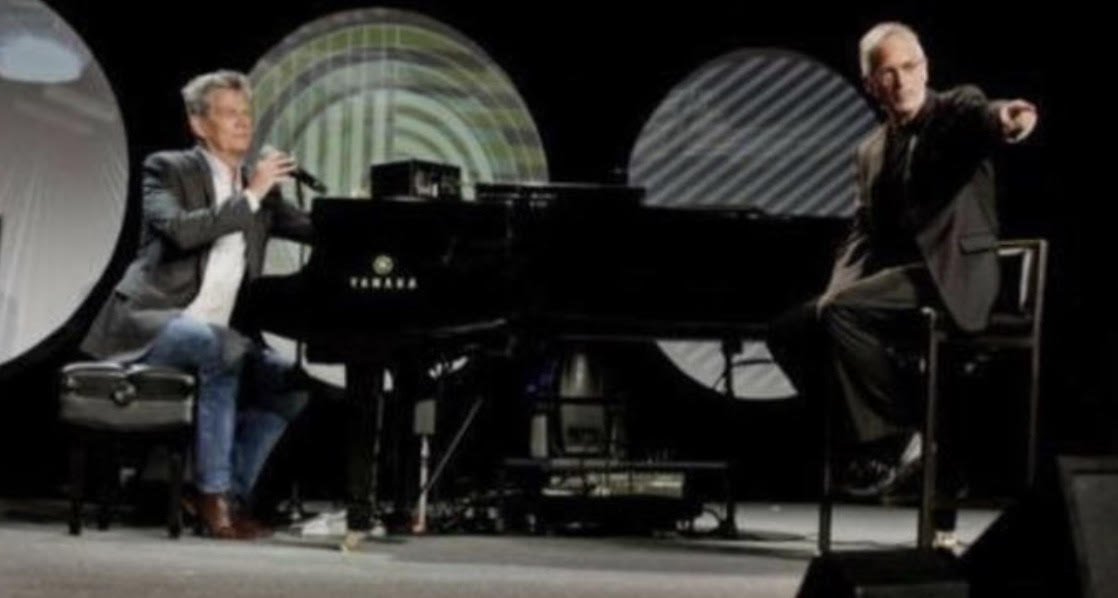 My 
David Foster
 / PROMAX odyssey began when I started working with 
ON-AIR Pro™
in January. I took a trip out west for a meeting with Sandra Alex and Jonathan Mickelson, the heads of 
Thought Development / ON-AIR Pro™
, and a shoot for the company's website and newsletter.
As the Creative Advisor, I was to representON-AIR Pro™ at PROMAX|BDA 2010. So my next meeting would be with their CEO,Jonathan Block-Verk, to see what he thought I might do at the conference in June.
Jonathan Block-Verk asked me to interview someone notable in music, TV, film and web. I suggested David Foster, one of the most successful composers, musicians, and entrepreneurs on the planet.
I had gotten to know David and his beautiful friend Yolanda through a mutual associate, businessman and songwriter Tim Blixseth. We vacationed together a few times in Mexico, where David and I played together and again when I played on a recording with Hugh Laurie's "Band from TV" on a soundtrack for "House, M.D." that David produced forNBC/Universal.

David Foster, Lester Holt (bass) and Frank Radice
Suffice it to say, I knew he'd be a killer guest for PROMAX/BDA 2010, so when I suggested him, both Jonathan Block-Verk and Sandra Alex (who also has a passing acquaintance with David from the music side of things) agreed!
So, I booked him!
It was decided he would be a keynote session on opening night. We called it "An Evening with the Hitman: David Foster."
The event would include a special intro tape produced by Defintion6, followed by David and a grand piano with me on a tall stool (like Sinatra) on the main stage in the ballroom before crowd of a thousand or more eager attendees.
That morning we had a rehearsal. David sent his right-hand man (woman), Courtney Blooding, and his piano guy, Warren Huff (who, by the way, brought one of the celeb-signed Yamaha's that benefited the David Foster Foundation to the tune of half a million dollars).
We went over the format with Jill Linderman, PROMAX|BDA's General Manager, and arranged a later meeting with David in his room at the Marriott. Everything was going as planned—but things are never that easy.
The Definition6 piece "Inspiration"—a beautiful design by Jim Read and set to an original score—was made especially for the event as the premiere showing of http://www.Def6.TVwork for the first time to a big and targeted crowd. Although the piece didn't play in its entirety (you could hear it on stage but not see it, and no one told me), Jill Linderman did play it later in the conference, just before "State of Our Art."
Finally, David and I walked out, sat down, and started talking about inspiration and what inspires him. Then we showed a tape of him and the greats he works with—from Bocelli toMadonna, fromCeline to Whitney, Michael Jackson and more. He's written and produced for the greats, and has the hardware to prove it: 15 Grammys, Emmy's—you name it, and he's won it.
After that he proved why he was such a great communicator. He got up off the piano bench, walked to the edge of the stage, and engaged the audience in a way I had never witnessed at Promax.
He told stories about everything from his family(s) to his Foundation, from the greatest voices to the biggest divas. We talked about the state of the music business (he brought in the crowd participation here), we talked about the Internet (more crowd involvement), and then he surprised us all as he had Heather Porter, from the audience, a Manager at Fox Broadcasting, come up to show him she could sing. And she could! It was a Puccini opera of all things, and David knew it, transposing on the fly.
Some of the reaction on the Promax|BDA site and on my Facebook page ranged from, "The best session at the conference" to "I wanted to hear more." That's always the best way to end a session—leave them asking for more.
For me, this was the best way to do a presentation. One-on-one, with an engaging, and entertaining individual, someone who has a lot to say and can make it relevant to the audience, (and the time to do it right with Q & A at the end.)
David made it easy with his undeniable charm and talent. He augmented his stories by performing little pieces of the songs that made him rich and his wives very happy. He owned the stage. That made my job that much easier.
In the end, ON-AIR Pro™ sponsored one of the highlights of Promax|BDA 2010, and for me, one of the best interviews I have ever done.
Thanks again David, and thanks to Sandra Alex for having the faith to back me up on this.
____________________________________________________
Frank Radice, Sandra Alex, David Foster, and Jonathan Mickelson
A Word From the President of Thought Development / ON-AIR Pro™
I would like to jump in on Frank's article to highlight one moment that meant so much during the ON-AIR Pro™-sponsored "An Evening with the Hitman: David Foster" session.
Sitting right behind me: the Los Angeles-based KCET on-air promotion team. Anyone who is a fan of public broadcasting knows that David has been hosting the "David Foster & Friends" specials on the Great Performances series airing on PBS stations across the country. At one point during his interview, David mentioned a new upcoming special in October and asked if anyone from PBS was in the audience. The KCET group clapped and cheered vibrantly.
The next day Tené Harris-Duckworth, Director of On-Air Promotions at KCET, and one of this year's Promax|BDA Award Winners, passed in front of the ON-AIR Pro™ booth. I had met Tené many years back and took the opportunity to give her a hug and re-connect. We talked about theDavid Foster session, and two of Tené's sentences stayed with me:
"The session was almost like a spiritual experience!"
and
"Now I have renewed enthusiasm for promoting the new upcoming David Foster PBS Special."
Although the focus was music, the session provided INSPIRATION for Tené and the promo department at "infinitely-more" KCET!
Thanks, Jonathan Block-Verk and everyone at Promax|BDA for helping make this moment happen. And thanks to Frank Radice for his vision, energy and tenacity!
It was a delight to sponsor a session that was intimate, warm, and inspirational to all of those present.